We create personal podcasts with the people in your life.



"Artifact is 'This American Life' for all of us."
—Cindy, Artifact recipient
Ideas from customers like you.
Use Artifact however you like.



We spoke with friends about the recipient and their relationships.
We captured young love. These newlyweds are now reflecting annually with Artifact.
Dad led his business through a difficult time. We curate personal accounts of what it took.
Commissioned by her parents. We now host an annual conversation with this child.
Grandpa on prior generations and his childhood – including a memory that's with him to this day.
Life is made up of them. This customer's family chronicled the impact of a big one.
What customers are saying...
"I felt like I understood more about myself as a parent after hearing Maeve's grandparents talk about her in their Artifact."
"Dad's always been there. My brother and I wanted to share moments when it's mattered most."
"A huuuge Thank You for the Artifact with Caitlin—brought me to tears and is very special."
Tell us what to explore and who to talk to.
Easy scheduling. Interviews over the phone. Edit.
You get a personal podcast
Waiting at a webpage.
Easy to share (or keep to yourself).

Artifact interviewers bring a range of experience, from public radio to popular podcasts.
Your Artifact. An instant heirloom.
One interview

Up to two guests
Two interviews

Up to four guests
Three interviews

Up to six guests
Episodes are polished to 20 minutes
Episodes include a curated musical

overlay
Interviews are 30 minutes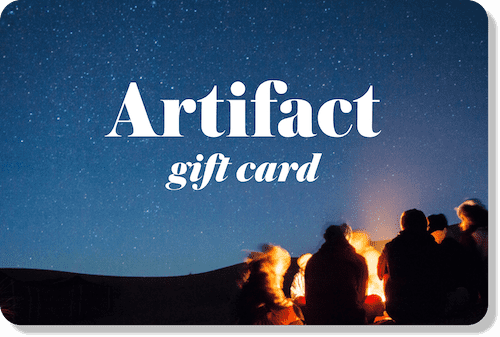 Give the gift of creating an Artifact.
"Artifact explored stories that my father never told me. It was like producing a radio show about the key decisions and events in his life."
Get the freshest stuff from Artifact!